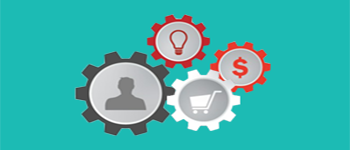 Shopamaze theme of Purpletree for Magento 2 is 100% Responsive, lightweight and ultra-fast, Simple yet Beautiful theme. All the theme options are created for ease of use by admin.It works perfectly with Purpletree Multi-vendor Marketplace extension. You can easily setup the Magento 2 themes for your website just after installing the theme. Admin just needs to select options for customized theme options.
Purpletree ShopAmaze responsive Magento 2 theme is enriched with many features and top modules by Purpletree which are of higher quality. Some of the modules included with theme are as follows.
Best Seller Products Module
Featured Products Module
Mega Menu Extension
Popular Categories
Popup Notification
Purpletree Marketplace Multivendor Compatibility and many more.
To setup theme login to admin panel of Magento and go to Purpletree menu on the left side and then select the Theme Configuration. From there, there are a number are options to select as follows-
General Configuration
License Key - Enter the license key of the theme which you have got from Purpletree Software LLP. Please contact us if you have not received the license key after the purchase of our theme.
License Status - This field will get automatically Validate once you enter the valid license and save the settings. If unable to Validate License please contact us.
Defer JS – This option is to speed up your website by deferring all the js of the page in bottom. Just select Yes from here. This will add all the Script js after HTML. It can used to optimize website performance.

Import CMS Blocks and Pages
Overwrite and Import Static Blocks - Select "Yes" if you want to overwrite CMS Static blocks with the same name and click on Import Blocks button. This will add all the demo blocks which you can see in our demo to your website.
Overwrite and Import CMS Pages - Select "Yes" if you want to overwrite CMS Pages with the same name and click on Import Pages button. This will add all the demo pages which you can see in our demo to your website.
Overwrite and Import Default Configuration Settings - Click to button to set the theme settings configuration as per our demo. This will overwrite any of your change on this page of Configuration for the website.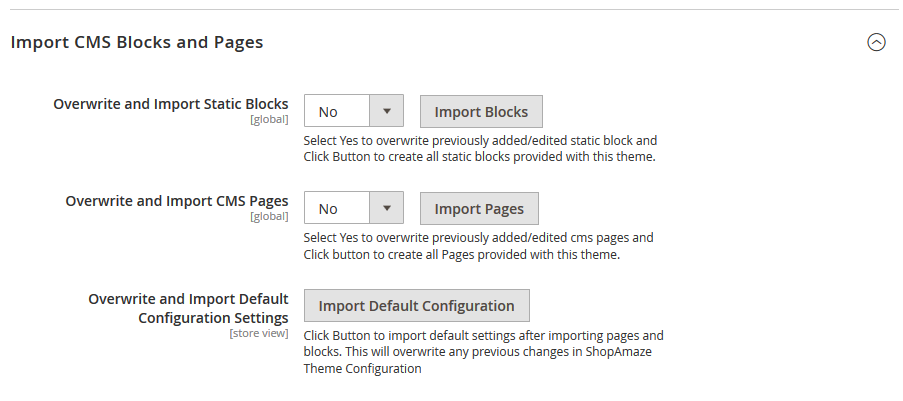 Homepage
Select Slider - Select Slider from the list. By Default, we already add the ShopAmaze Homepage Slider with the theme. You can add/edit or delete slider and select the slider which you want to show on your homepage.
Show Popular Categories Block - Select Yes if you want to show popular categories block on the homepage and select Categories from Popular Categories
Show Featured Products - Select Yes to show featured products block on homepage.
Featured Below Block - Select Static block from the list which will be visible below Featured Products block.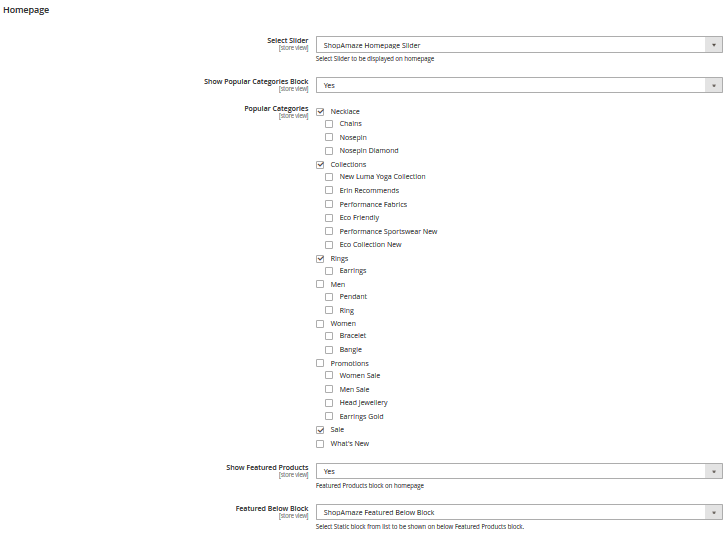 Popup Notification
Select CMS Static block for Popup Notification which will be on the screen of all pages when any user opens the website. Enter Height and width of Popup notification, leave it blank for default.

Header Options
For Header there are numerous options, select the options as per your requirement for header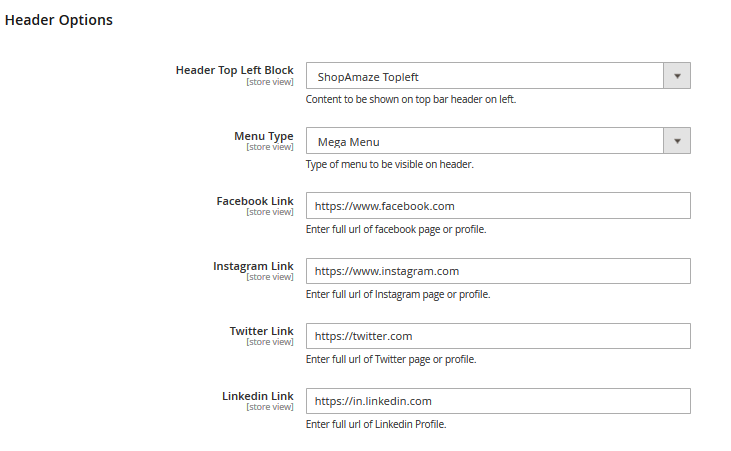 Footer Options
Select options for footer according to website requirement. Select Static blocks for footer menus and many more options to choose from.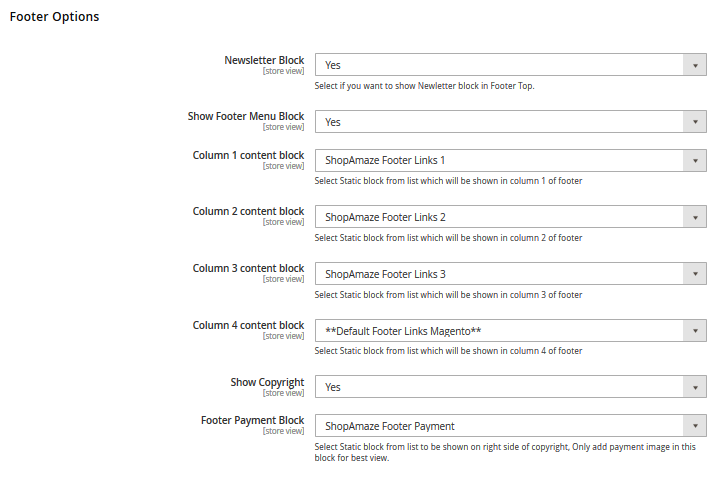 More details of Purpletree ShopAmaze Multipurpose Responsive Magento2 Theme can be found here.