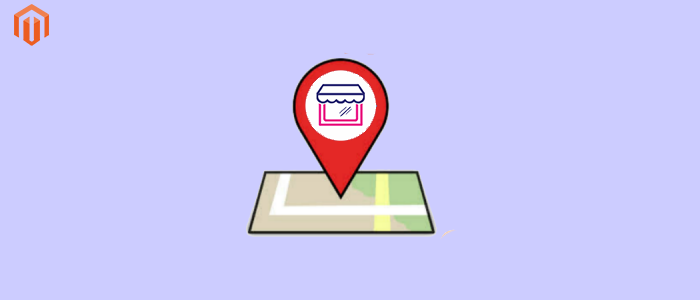 Purpletree Store Locator for Magento 2 allows Magento admin users to add Stores from the admin panel so that users who visit the website would get to know the exact location of the website physical stores. This extension is very useful for those business stores, which have multiple physical stores all around the world. Admin just needs to add the store details once and user who visits the website would get the listing of Stores with their Location in Google map which is already integrated in Purpletree store Locator extension for magento 2.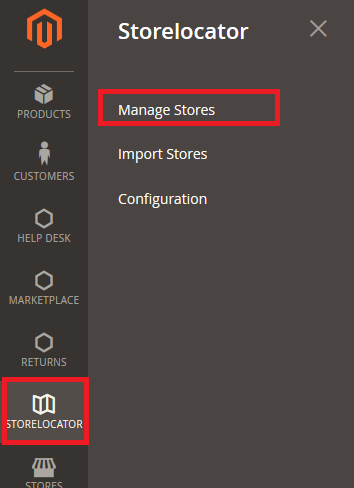 To add store from admin, go to admin > Click Store Locator Menu from the left Menu. From there Click Manage stores. From there you would see a list of stores already added in-store locator, you can add or edit any store. To add any new store just click on Add New Store Button on top right side.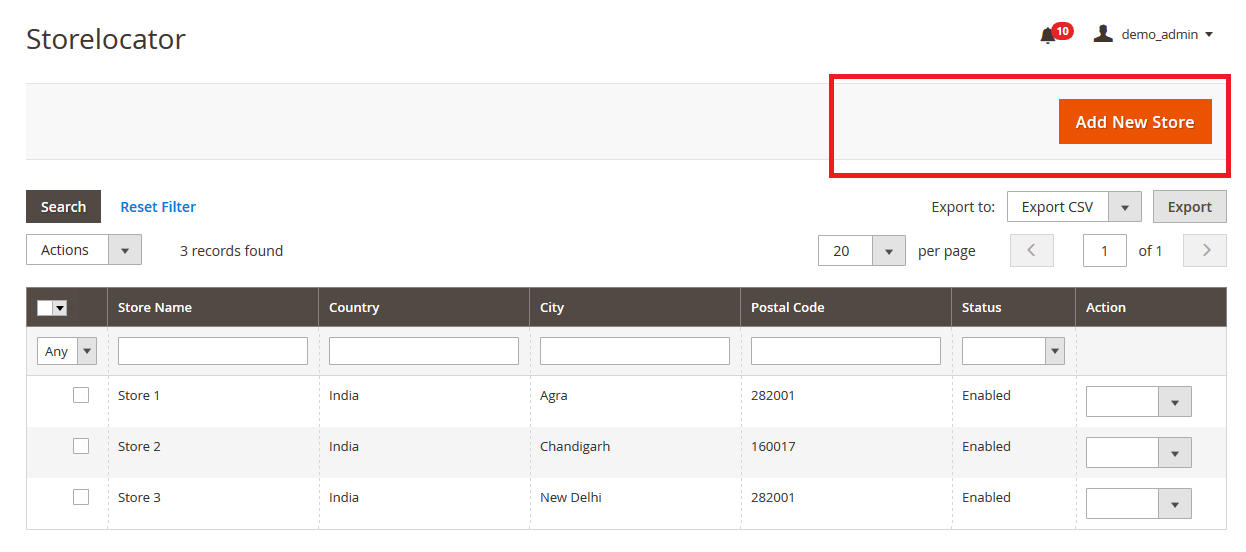 Now opens the form which have 3 tabs 1st one is Store Information, in here Admin can enter all the Store related info as follows:
Store Name – Enter Store name over here, which would be the title of that store.
Status - Select Status as Enable for this store to be visible in frontend else select Disable.
Show View Page - Select Yes so that users can click on the store page from listing and can view details of the store along with store description, set No to show the Store in listing only, and no need for Store view page.
Latitude - Enter the exact correct value here for store location, you can get this from Google maps. In URL 1st one is the Latitude value and 2nd one is Longitude as in the below screenshot. So here Latitude is 28.6129167, which is before Comma (,).
Longitude – Enter the exact value for store locator, you can get this from Google maps. So here longitude is value after Comma (,), which is 77.227321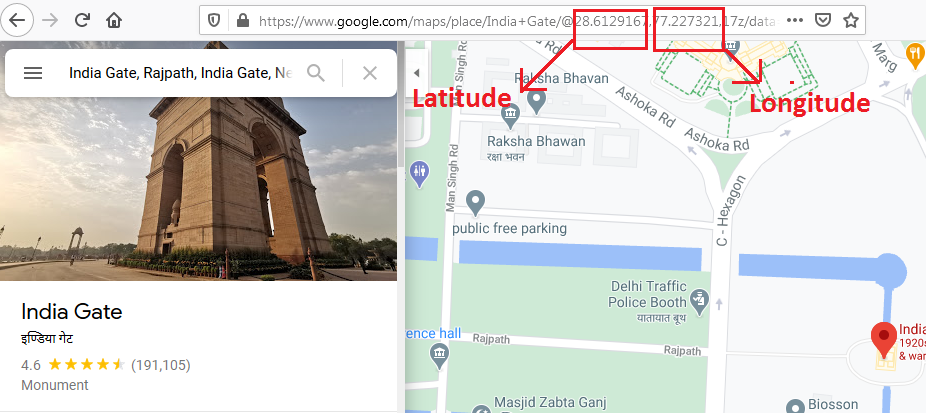 Country – Here just enter the country name.
State – Enter State or Province over here.
City – Enter your city name here.
Postal code - Enter Postal or you can say Zip code here for store location.
Address - Now enter the full address of the Store in this field. Enter the correct and full address for users to get the location.
Phone Number - Here enter the Store Phone number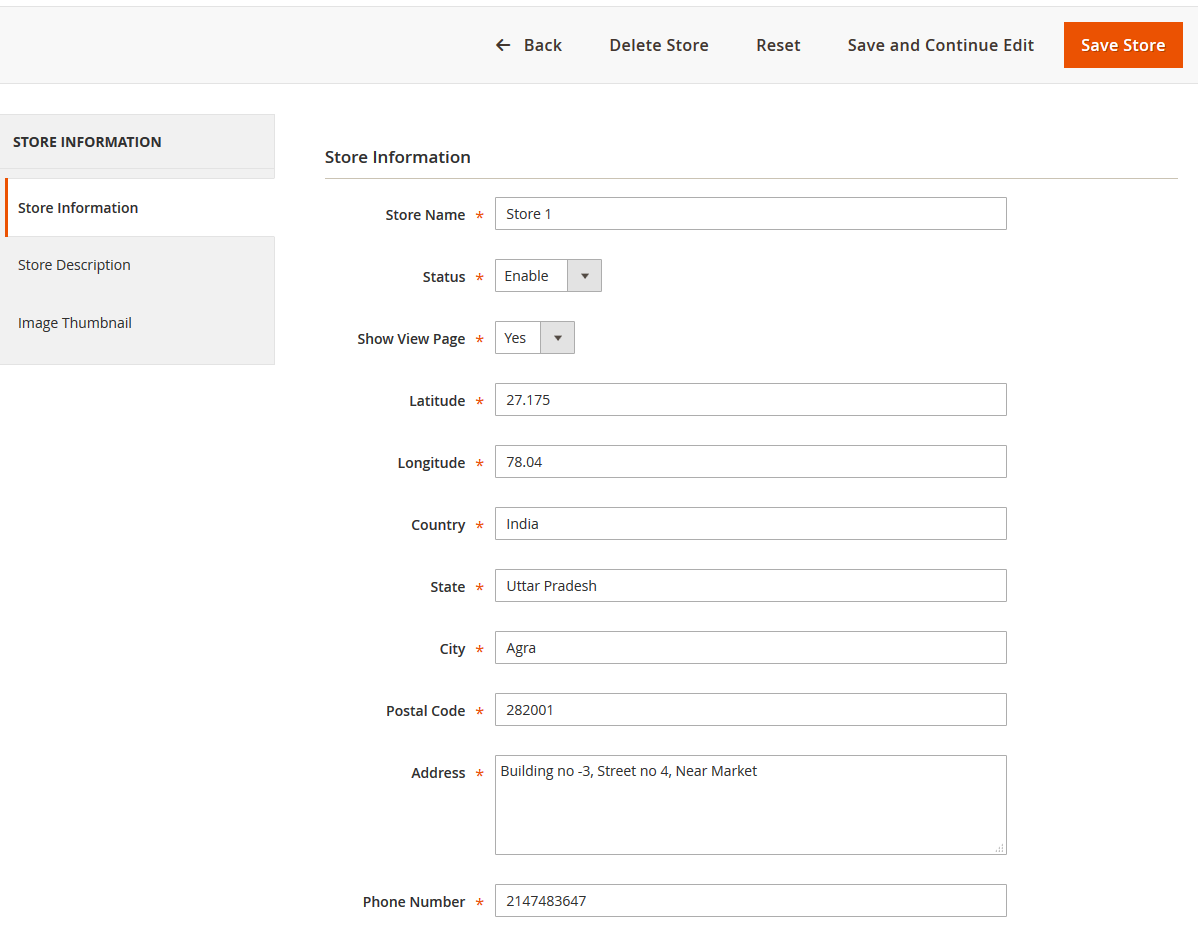 Store Description tab – In this tab, there is only one filed which is Store description, Enter full store description over here. You can use the WYSIWYG editor here for Designing HTML.
Image Thumbnail - In this tab, Browse and select image for Store which will be visible in the Store locator listing page.
Once admin has added the stores from the admin panel and Purpletree Store Locator for Magento 2 is enabled from admin Configuration, Header and footer links for Store Locator would be added. If Not added due to Theme you can contact Purpletree Software LLP team to make this extension compatible with your theme. On click on the Store locator link user can view a list of all stores added and are enabled by admin with full details.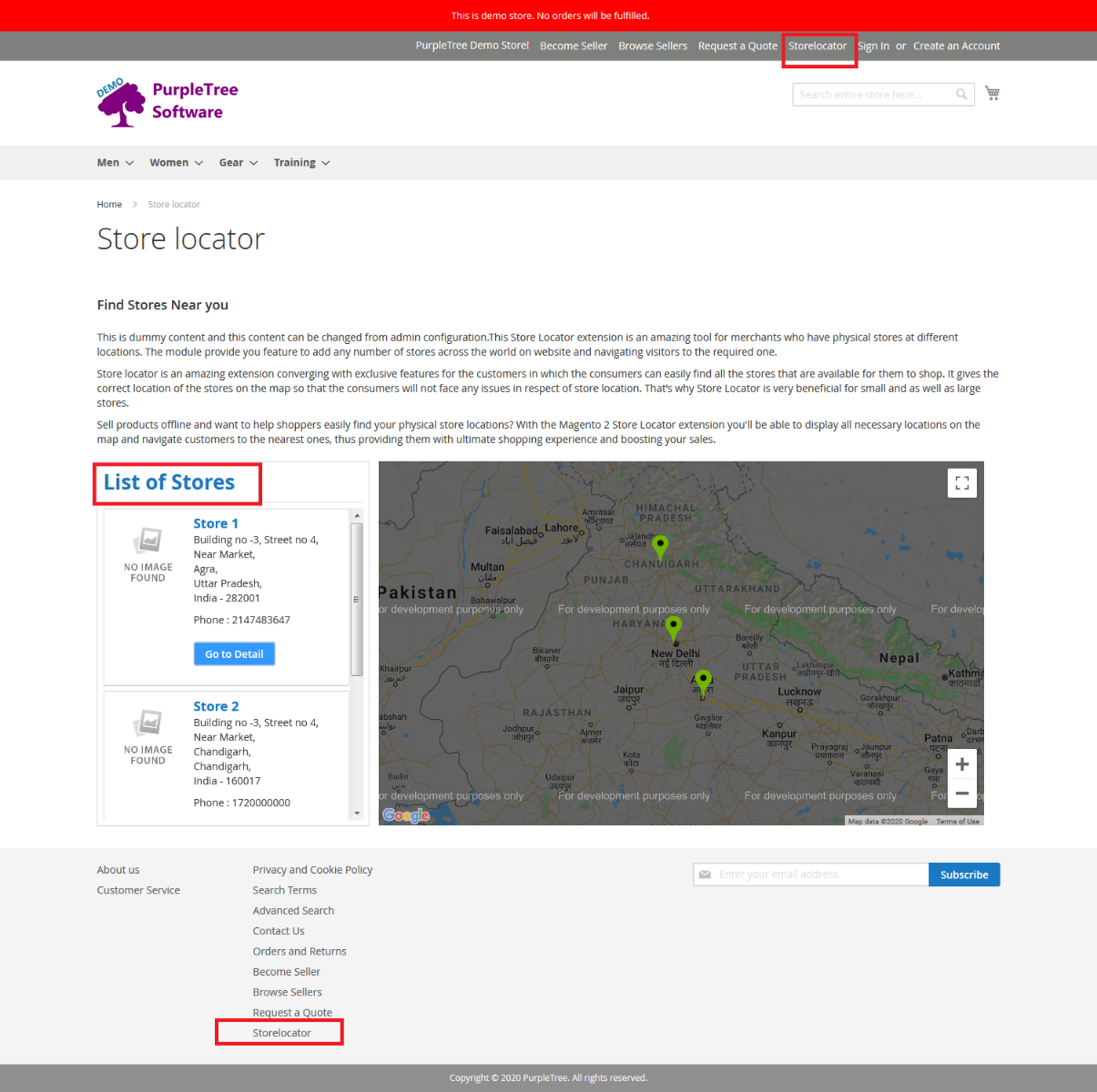 More Details of store locator for Magento 2 other related blog.
Add and view stores in Magento store locator
Use of Purpletree Store Locator for Magento 2
More details of Purpletree Store Locator for Magento 2 can be found here.