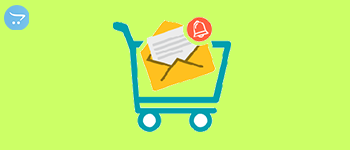 Opencart abandoned cart reminder works when any visitors on eCommerce site like Amazon, eBay store, add items to their shopping carts and leave without completing a purchase. This is primarily because the average travel purchase is more complex and expensive, so people are more likely to take longer to decide. So abandoned cart reminder email is needed. If someone leaves items in their cart for a certain period, it's good practice to trigger an email immediately reminding them of what they left behind, or providing an offer to sweeten the deal.
Purpletree abandoned cart plugin is to provide information about customers' products which is added in the cart like shoes, shirts, etc. All the information on the cart will send to the admin via an abandoned cart module. The admin can inform the customer according to the products which are in the cart. This module is very flexible and easy to use which allows admin to notify the customers about their products which are in the cart via mail. Purpletree abandoned cart also know abandoned card extension for Opencart store.
How Abandoned cart work
First of all install extension with the help of the user guide. After that when the installation is completed then enabled abandoned cart extensions by using enter the license key. When Purpletree Abandoned cart extension enabled successfully then abandoned card extension menu show on the admin left navigation menu.
When the customer will log in to the frontend and choose a product from the product to add the product by clicking the "Add to cart" button. In the backend, the admin can see these products inside the abandoned cart module.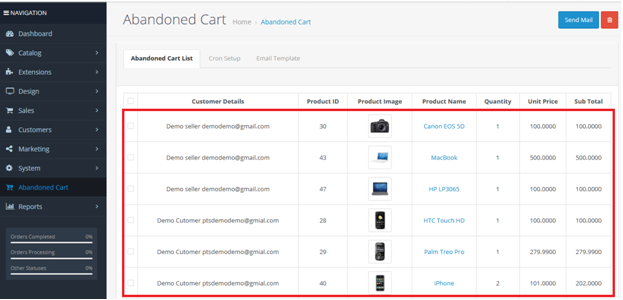 Customer Notification
The admin can able to send e-mail to their customers for any product which is added in the customer cart. Mail will send to the Customer by using the send e-mail button. For e-mail to the customer, admin selected product by using a checkbox of the list and click on the send mail button.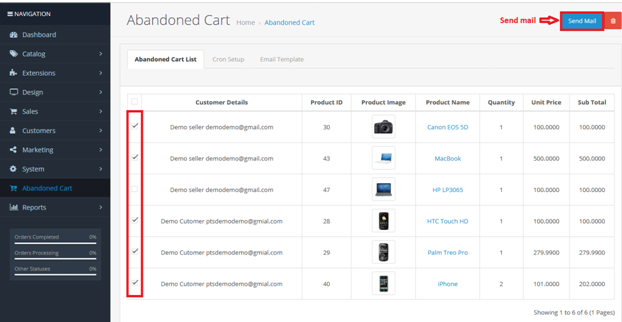 More details of Purpletree Opencart Abandoned Carts Reminder Extension can be found here.