OpenCart is empowering numerous business ventures and to extend their capability site owners can also use multivendor marketplace as an add-on. Multivendor marketplace enables the owner to convert their Opencart e-commerce store to a multiple vendor store. Owners can convert their store to a fully functioning marketplace. 
Multivendor marketplace facilitates addition of multiple sellers to any existing e-commerce site and tracking the sales. Each seller owns a dedicated personal profile through that they can manage multiple pages for a variety of products. Through this tool owner or Admin can also manage seller commissions. Variety of features of multivendor marketplace aids the seller to perform variety of operations.
Here in this article, we are going to discuss and see the installation steps of Purpletree software for Opencart multi vendor which can provide them a number of features and boost the sale. Some of the unbeatable features of Purpletree marketplace module are:
User Dashboard
Admin Panel
Seller Panel
Store Page
Split Order Processing Facility
Multilingual
Live Chat Facility
Mobile API
Bulk Import admin/seller
So just by following below mentioned installation process, you can avail not only above-listed but many other features.
Installation Procedure of PurpletreeOpencart Multivendor Marketplace Software
As we have mentioned in the above-section that Opencart multivendor marketplace has lots of features and can provide a number of benefits to the sellers, so we are going to discuss the step by step installation procedure:
Now after performing extension, you can follow the below-listed installation steps to complete the installation of Purpletreeapplication.
Step1: Login to your OpencartAccount by using valid credentials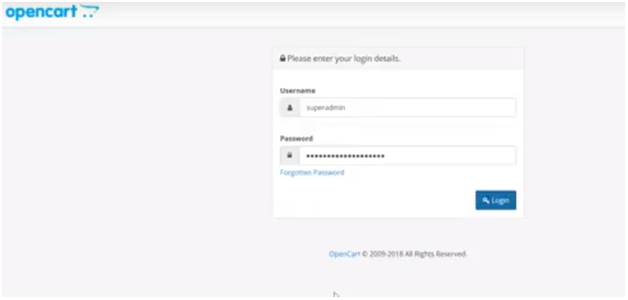 Step 2:Goto Extension->Installaer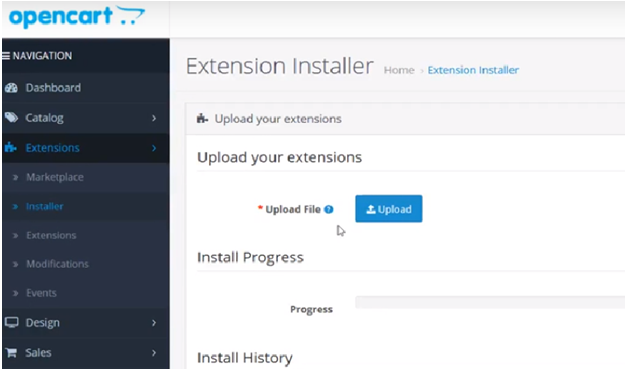 Step 3: Now upload the appropriate version of the extension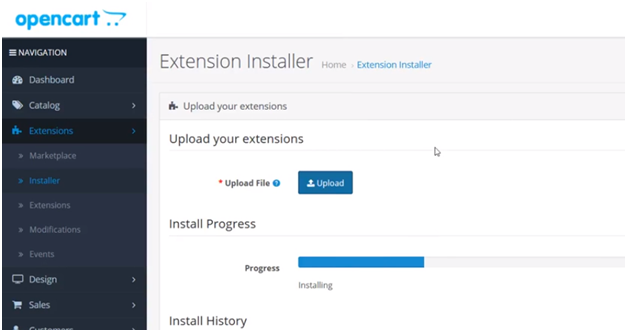 Step 4: Refresh modification cache

Step 5: Now give appropriate user permissions for that Goto System -> User->User Group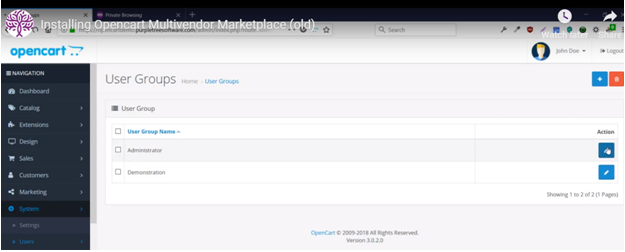 Under Administration option, you will find select all option check that option to modify permissions and access all of them and save the changes done so far
Step 6:Now refresh website cache that can be done through the Dashboard:

From here you will have to Refresh "Theme" and "SASS" components.
Step 7:Now you have successfully installed this multivendor extension of Purpletree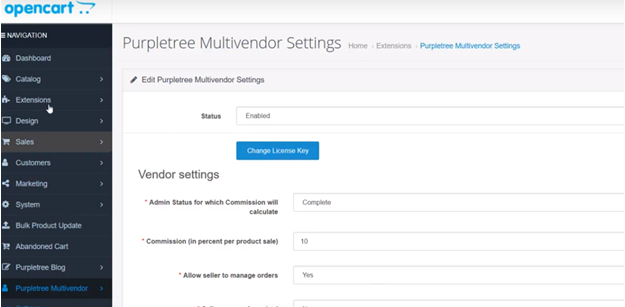 For the installation also make sure that cron is set for magneto to access all of the functionalities of the software.
Conclusion
Purpletree Multivendor marketplace module can be easily installed by any Opencart e-commerce site owner. The application is not only able to increase business ROI but also add a number of features to any existing online e-commerce store. Site owners can easily add and manage multiple vendors and extend their site capabilities.
More details of Purpletree Opencart Multivendor marketplace can be found here.