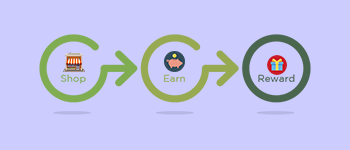 The Opencart reward points extension functionality enables you to create and implement a loyalty program for improving customer experience and increase customer loyalty. The Reward Points Program allows customers to earn points for certain actions they take on the site like registering and making purchases.
Reward points can be used as one of the payment methods. This option is displayed in the Payment Method area of the checkout. Exchangeable reward points can be used together with other payment methods such as credit cards, gift cards and more. The Reward points can also be canceled if a customer canceled an order or sent a return request.
Opencart reward points extension is providing rewards points in which a customer can collect his first purchase. This Reward point customer can redeem on the next order. Admin can use a Reward point for increase sell and attract customers. This extension adds reward points to customer accounts at the time of their first order. The number of reward points to be added to the customer account is configurable.
How to setup License and other settings
First of all install module with the help of the user guide. After installing the module through extension installer, go to Extensions > Extensions and select "module" from the drop-down list. Thereafter Install "PurpletreeRewardpoints Settings" and click on the edit button. You will reach on Purpletree Reward points settings page. Here you can enter the license key and set other settings. Click on the "Get License" button. Enter License Key –This key is provided when you purchase the extension.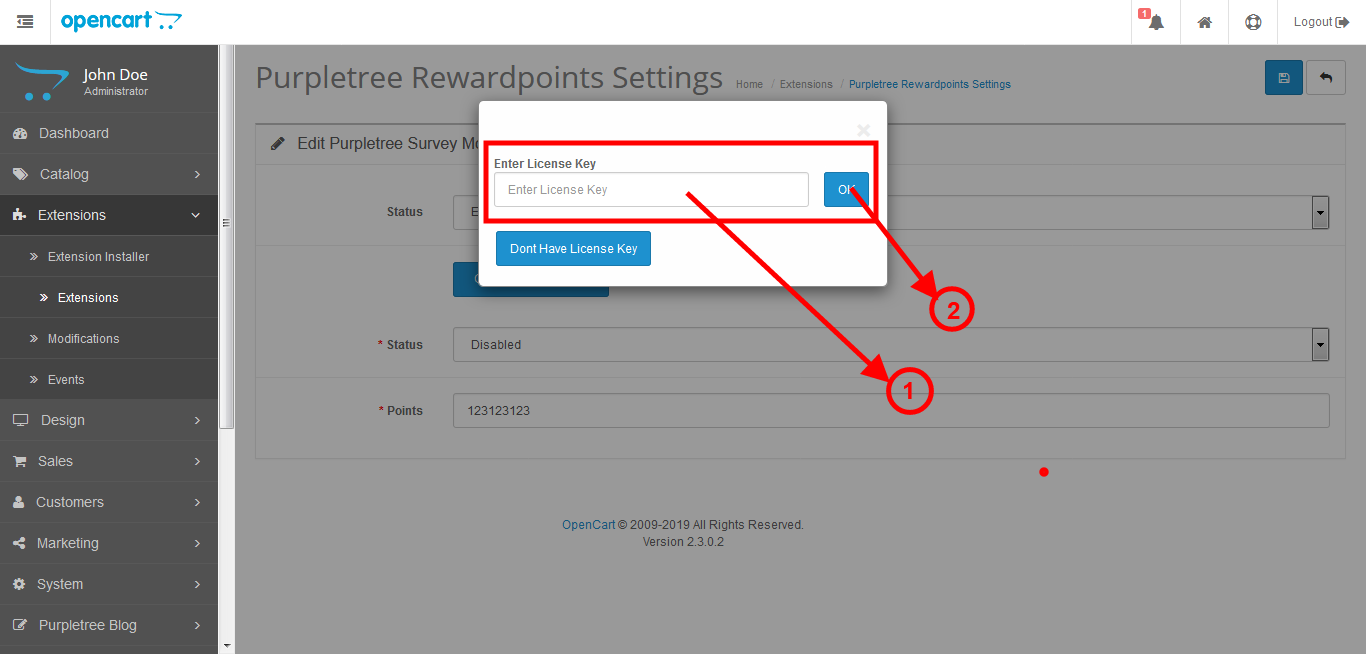 Or
If you have not to License key and you have your "order Id" and "Email Id". Go to Admin >Extension>Extension > Purpletree Reward Point > Edit Module > Click on "Don't Have License key" button. Enter your Order ID which was generated when you placed an order for our extension and "Email ID". Click on Submit Button and your license key will be filled on the License key field.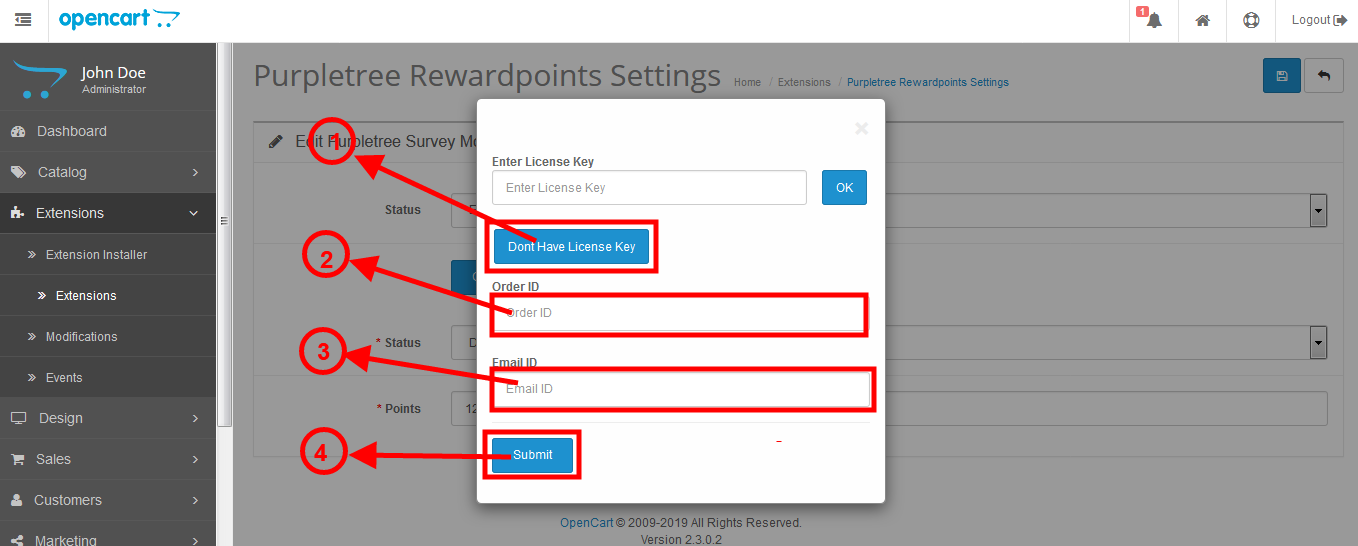 After that "Enable" the module status and do the setting according to your requirement.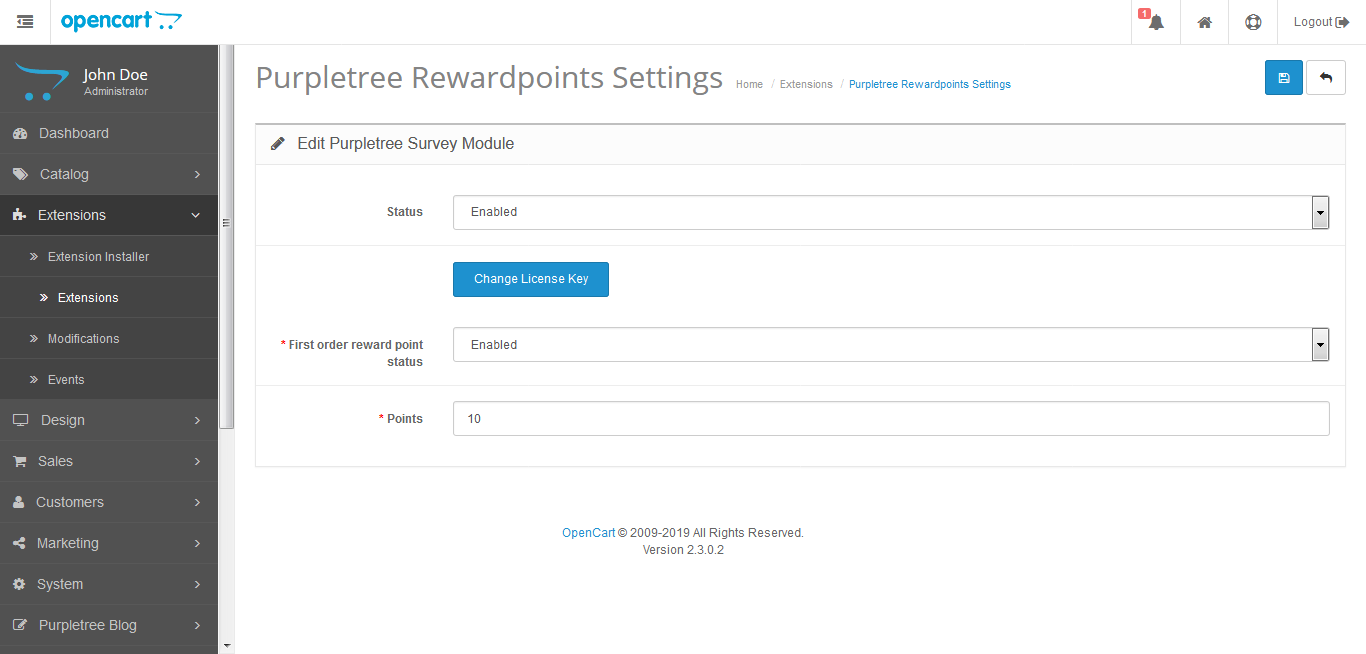 On placing an order, if it is the first order for the customer, the extension adds reward points in the customer account according to the setting above. Customers can see received reward points under the "reward points" menu in the dashboard.

More details of Purpletree Opencart Reward Points on Order Extension can be found here.