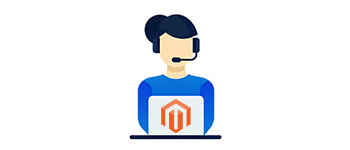 Using Support Desk/ Helpdesk for Magento 2 Extension any customer can easily raise any issue from frontend regarding the website order or anything else by just logged in to their account and create a new ticket for any concern from their account. The customer would simply have to explain their concern in a textbox. They could attach any files with their concern and simply submit it. If Query is regarding any order, there is also an option to enter Order for which the Query is raised.
The process above explains how the customer would raise any request which is so simple, now comes how admin would do it is also as simple as for the customer. Purpletree Support Desk/ Helpdesk for Magento 2 allows admin to easily view all the tickets raised by customers and reply to them each.
The following are the steps to be taken by admin to view tickets raised by customers and reply to them one by one.
Just log in to the Admin panel and go to HelpDesk > Tickets > All Tickets.
Now here you would see the listing which are the tickets generated by customers and their details.

Now on Action Column Select View for any particular ticket.
Here Admin would see the Ticket Number on Top which is uniquely assigned by Purpletree Support Desk / HelpDesk Extension for Magento 2.
Below is the Subject regarding which the ticket is raised.
Then Comes the Customer request in detail.
There could also include Attachment. An attachment could be of following File types ' pdf, doc, Docx, Xls, xlsx, CSV, txt, jpg, jpeg, png, gif'.
Last, there is a Text Box in which Admin could reply to the query. Just Enter the response with whatever clarification or resolution regarding the same to the customer.
If required Browse and add files to support your response File Types which admin could add are same as which are for the customer as 'pdf, doc, Docx, Xls, xlsx, CSV, txt, jpg, jpeg, png, gif'
Click on Submit Button Below to add your response.
If the Customer has further queries regarding your response they could reply to your response. And the same would be added in the listing below each query on this page.
Admin could reply anytime for query added in this Subject by Customer.
Once the customer is satisfied with the response means their query has been resolved by Team weather it is regarding an order or Pre Sales. Admin could close the Ticket for the Same.
Closing Ticket means Changing the Status of the Ticket to Closed in Change Ticket Information and Save the Details.
Once any ticket Status is Set to Close, the Customer would not be able to reply to that ticket from there Panel. If still an issue they could always raise a new ticket.
Both Admin and Customer would also get Notification Emails Regarding Ticket and Status if it is Enabled by admin from Admin panel.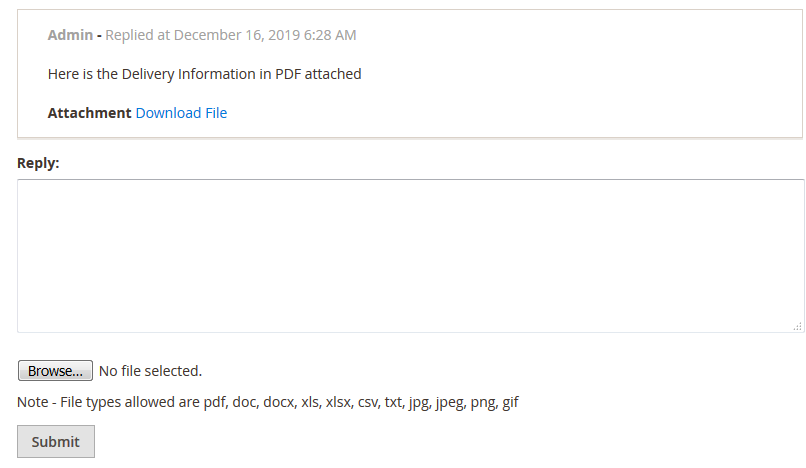 More details of Purpletree Support Desk / Helpdesk for Magento 2 Extension can be found here.